x
Thank you for submitting an inquiry. We will get back to you within 24 hours. The Longevity Escapes Team
4 Day 'Vegetarian Wellbeing' and spiritual meditation retreat in Spain
Organised by: BiOage Retreats
If you're looking for a peaceful, relaxing, romantic getaway in the middle of nowhere, La Donaira is a little piece of heaven and a rural Andalusia yet chic Organic FarmHouse that will for sure captivate you with their commitment to both hospitality; and a healthy, sustainable way of life.
What's included?
3 Nights in an intimate feel luxury ensuite room or yurt
1 Welcome VIP healthy amenity in room
3 Days healthy eating concept according to the meal plan defined by the nutritionist
3 Days healthy snacks and beverages available throughout the day
1 Nutrition consultation (personalised plan to take home)
2 Meditation sessions 60m
2 Yoga sessions 60m
1 Forest bathing 60m
1 Vibrational massage with Tibetan singing bowls 60m
1 Calming facial with vitamin E and aloe vera 60m
1 Grounding on horseback 15m (Optional)
Access 24 hours to the spa facilities (sauna, hammam, and indoor pool)
Access to the outdoor swimming pool with sun-beds for relaxation
Daily use of thin and thick robes and wool ponchos to wrap up in on cool evenings
Use of mountain bikes, safety helmets, water bottles, sunscreen and insect repellant
Guided stargazing with a Celestron cpc 800 telescope and star specialist (50min)
Guided app for hikes on and off the finca designed to suit all fitness levels
Available at an extra cost
Horse Dressage lessons
Horse hacks
Natural Horsemanship training sessions
Aerial yoga classes
Pilates classes
Wellness spa treatments
Price
Booking request
To proceed with your booking, select a room and a check-in date from the calendar. Please note you must request availability before making your deposit payment.
Early Bookings: 5% OFF

Prices are based per person/ night:
Promotion
5% reduction on room rates for bookings made 120 days before guest arrival
Cancellation policy
Free cancellation: Up to 16 days
Finca la Donaira – Bio Farm Stay
Sierra de Ronda, Málaga, Spain
La Donaira is an eco retreat of discreet luxury, organic farm, equestrian centre and eco spa located on the top of the Andalusian Serranía de Ronda.
What we love about this venue
The spa is a delight with a stunning heated indoor pool and panoramic views from the freshwater.
Mostly organic vegetarian and genuine 'zero-kilometre' cuisine.
Solo travellers feel welcome with family-style dining.
Be a farmer for a day and meditate on one of the few bee beds that exist in the world.
Key Info
---
Read more
Services
100% Plastic free
24-hour front desk
Agritourism Farm
Beach bar
Concierge desk
Cooking lessons
Dining area
Filtered water
Fireplace
Food tasting
Free bicycle
Free parking
Garden
Mosquito net
Multilingual staff
Pool with view
Restaurant
Single Use plastic free
Check in/ out
12:00/ 11:00
Spa and therapy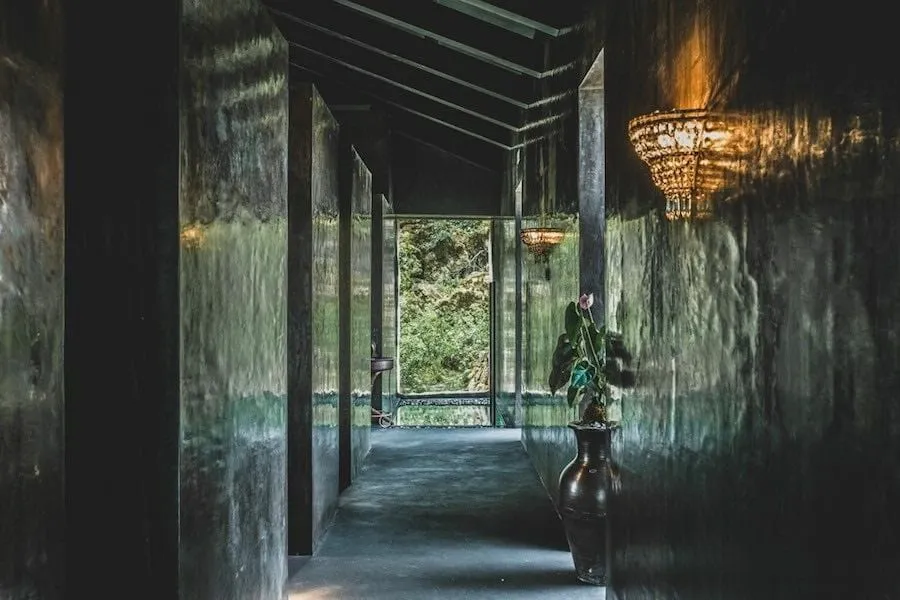 This package offers 24 hours access to the hamman, the sauna and the luxurious infinity pool with exquisite views of the surrounding nature. In addition, included are the following experiences:
Holistic Body Treatment 90m
This calming treatment includes head to toe exfoliation accompanied by a relaxing massage with an aromatic oil of your choice.
Shinrin Yoku (Forest bathing) 90m
A Japanese practise combining mindfulness, nature and donkeys. Deeply relax and connect with nature, while enjoying several proven health benefits.
Medicinal Garden Tour 60m
An exciting introduction into the primordial world of original scent and avourin our Medicinal Garden with more than 300 types of healing and edible herbs and flowers.
Soap Making Workshop 60m
Beginner's workshop in the art and science of soap-making that includes a step-by-step guide through the basic of the Cold Process Method. Using natural materials from our farm this is a fun activity suited for individuals and whole families alike.
Activities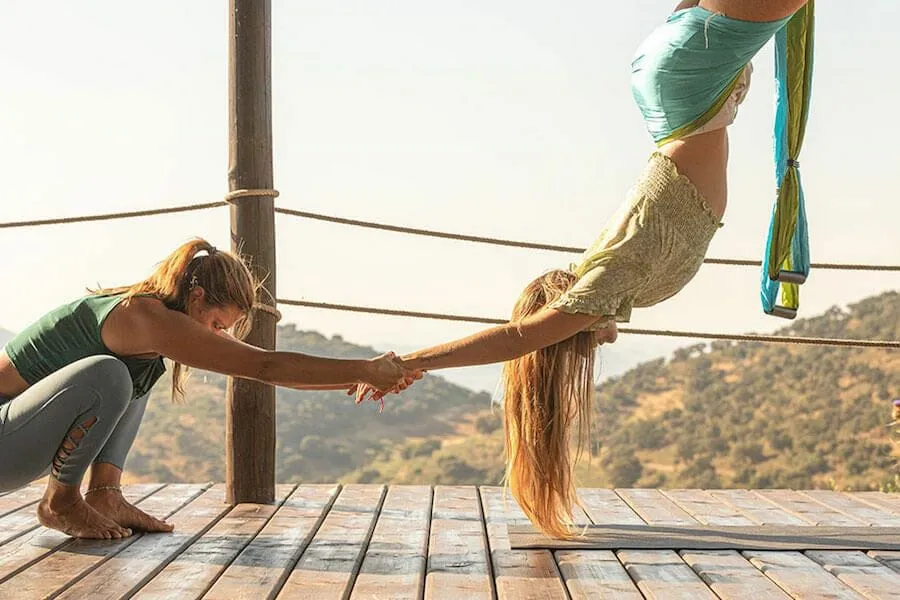 The following activities are available upon demand at an extra price:
Yoga (Hatha yoga, Sivananda yoga, Vinyasa flow, Power yoga, Yin yoga, breathwork Pranayama)
Meditation (Mindfulness, Kundalini, chakra balancing, bee sound meditation and silent walking meditation)
Mat Pilates
Aquagym
Skill level
All walks of life
Dining experience
All meals and drinks are included in this package. All meals are low in carbs and personalised to your needs according to the meal plan defined by the nutritionist. Both lunch and dinner are mostly vegetarian and beautifully balanced with ingredients from La Donaira's own land or sourced from a local producer.
Review scores and score breakdown
5.0 / 5.0
5.0
/ 5
Based on 4 reviews
Overall

5

Venue

5

Package

5

Activities

5

Cuisine

5

Location

5

Sleep Quality

5
Guest reviews
Tripadvisor 2022
2023-02-05

A GEM! UNIQUE & FRIENDLY ECO LUXURY RETREAT

Rating: 5.0 / 5

My husband and I found Finca La Donaira by chance and were so pleasantly surprised by this beautiful gem with its peaceful atmosphere, amazing food and friendly staff. The retreat was so small and intimate (only 9 rooms) that it felt more like being a guest at a friend's house than at a public resort. The rooms didn't even have keys, that's how small and secluded it was. The views over the mountains are spectacular, as is the garden where all herbs and vegetables used at the resort are grown. And the outdoor and indoor pools and spa facilities are beautiful. We did both yoga and pilates with the teacher Paula that were really excellent, as well as some early morning trail running, gravel cycling and hiking in the mountains around the lodge. All in all, this is a wonderful, special place with authentic, discreet luxury and personable, friendly staff and fantastic food! Highly recommended, and we cannot wait to come back!

TripAdvisor 2020
2023-02-05

ALMOST PERFECTION!

Rating: 5.0 / 5

La Donaira is one of the most special places we've ever been. The natural beauty is breathtaking, and the whole package of an intimate farm with VIP treatment and amazing food (!!) resulted in one of the best vacations we ever had. The room was the epitome of simple luxury. Incredible staff too- especially in the kitchen (which ends up being the heart of this lovely place). How wonderful it is to share a table with fellow traveLlers from around the world, while watching the chefs create their beautiful meals. And we were sad to say goodbye to the morning crew!!

TripAdvisor 2020
2020-10-22

SUPERB EXPERIENCE! - September 2020

Rating: 5.0 / 5

We felt really at home at La Donaira; the furnishings are exquisitely selected with every detail redolent of atmosphere and comfort. Thoroughly enjoyed reading the fascinating selection of books scattered on shelves and surfaces in the cosy alcoves and comfortable terrace. The food was superb. The spa and pool were wonderful; I especially enjoyed swimming up and down whilst looking out the huge picture windows over the gardens and mountains. The style of the place invites in the elements and conveys character through colours and textiles reflecting the landscape and andalucian traditions. the horse riding though the tousled golden landscape under emerald oak forests and peaks was exhilarating. The horses needless to say as their tack and equipment were first class. They are spirited and lively and sympathetically treated by a staff who understand the needs of every rider. We enjoyed the tour of the grounds and animals and especially enjoyed the herb and medicinal gardens, and the amazing productivity of the vegetable gardens which we enjoyed at mealtimes

Customer2020
2020-10-22

A WORLD CLASS FOODIE, HORSE RIDING, LUXURY BOUTIQUE HOTEL - August 2020

Rating: 5.0 / 5

Beautifully designed and run, La Donaira is instantly relaxing and stimulating, natural and sophisticated, all in equal measure. It could be a world class foodie destination, exceptional riding & horsemanship clinic, or a gorgeous hotel spa and retreat, yet somehow manages to be all three. We will definitely be back (again!). La Donaira is the real deal in every sense: so much imagination, thought and care is evident across the board and from every single person who works there - from the extraordinary food prepared, to expertly delivered riding lessons (thank you Yvonne!) and hacks out with wonderful horses, to the stunning wild pool and poolside bar, amazing yoga lessons on a platform overlooking the mountains (Namaste Paula!), the spa and bedrooms, to the garden, the art, the rolling hills and carefully cultivated, organic farm.. it is an extraordinary place that has attracted extraordinary people to work there. They clearly love what they do and, whatever you choose to do whilst you are there, they make your stay unforgettable
