x
Thank you for submitting an inquiry. We will get back to you within 24 hours. The Longevity Escapes Team
8 Day 'HIIT Detox', wellness reset and fitness retreat in Morocco
Organised by: BiOage Retreats
With mindful practices and an inclusive spa detox therapy for weight loss, you'll enjoy a relaxing spa holiday in Morocco with a combination of expert nutritional coaching sessions and wellness activities. Discover deeper awareness and reconnect to your inner light and beauty with a personal fitness and yoga package that will help you determine your long-term health desires.
What's included?
7 Nights' 5-star ensuite accommodation with sea views
1 Round trip airport transfer
7 BioAge breakfasts: personal wellness cuisine
7 Bio immunity juices served at breakfast
7 Bio detox juices served at lunch
7 Bio dinners: Low carb, vegan or flexitarian
1 Fitness evaluation 30m
6 Fitness sessions 60m: HIIT, CrossFit, circuit training, beach bootcamp, etc.
1 BioAge Detox™ : spa-detox circuits with chelating protocol (5 days)
3 Personal training stretching sessions 30m
1 Traditional Moroccan hammam with scrub 50m
4 Detoxifying steam bath sensory hammam 30m
3 Purifying tone massages after steam bath - detox circuit 50m
1 Relaxing head to toe massage with orange blossom oil 50m
1 Final consultation with targeted recommendations for maintenance
2 Daily shuttle services to Agadir (Except Thursdays). Registration must be done one day in advance
Use of of indoor and outdoor fitness areas Towels and sun-beds at the hotel pool and private beach
Access to beach volleyball, beach football, table tennis and body board
Access to leisure program (open-air cinema, beach camp fire, etc.)
Prior to arrival
1 Nutrition consultation (1h) or follow up repeaters (30m)
1 Toxicity exposure assessment
1 Nutritional pre-detox preparation
1 Personal wellness schedule
Sample day
08:30   Personal breakfast with holistic juice
​11:00   HIIT session or fitness workout 60m

12:00

   Detox circuit therapy 80m
14:00   Detox juice
17:30   Sunset yoga 75m - (Extra cost)
19:30   Personal dinner
What's not included?
Flights

Municipality taxes
Available at an extra cost
6 Yoga sessions at sunset 75m
2 & 5 Day surf course package
Recommended for
Individuals staying long periods indoors, feeling fatigue and lack of energy.
Individuals consuming daily high amounts of coffee, cigarettes, alcohol, painkillers or medicines.
Individuals using daily cleaners, nail polish, hair dies or non-organic cosmetic and soaps.
Individuals with exposure to daily environmental toxins, heavy metals and mercury amalgam fillings.
Individuals with hidden infections or exposed to high microbial toxins and mycotoxins.
Individuals looking to reduce the toxic load to a level where the body can optimally function.
Individuals looking to loose weight within a safe protocol.
Individuals with high sensitivity sense of smell towards paint fumes, tobacco smoke, auto exhaust, etc.
Individuals under 55 kilos weight.
Health benefits
Gut/ digestion well-being
Supports intestinal microbiota
Addresses over-growth bacteria, parasites and fungi
Reduces mycotoxins
Strengthens the immune system
Improves mood and energy
Reduces heavy metal load
Has a protective effect on brain
Reduces inflammation
Reduces both ammonia and uric acid levels in blood
Improves cholesterol profile
Boosts energy and life zest
Promotes healthy weight loss
Price
Booking request
To make a reservation, please use our request availability form.
Early Birds: Up to 15% Discount
Promotion
15% OFF on room rates for bookings made 120 days prior to arrival
10% OFF on room rates for bookings made 90 days prior to arrival
5% OFF on room rates for bookings made 60 days prior to arrival
Cancellation policy
Free cancellation: Up to 15 days
Paradis Plage Surf Yoga & Spa Resort *****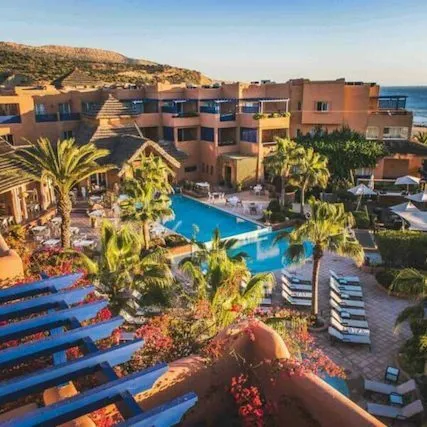 Km 26 route d'Essaouira, Imi Ouaddar, Agadir 80000, Morocco
Rating: 4.5 based on 1172 reviews
A culturally diverse and vibrant destination with mountains, desert and coastline, offering surfing, yoga, fitness and spa holidays in Morocco with a very tranquil feel. The Eco-Hotel is set by the beach on a five-kilometre stretch of sand in the North of Agadir, near the surfer's village of Taghazout.
What we love about this venue
Eco Resort with tropical oasis feel located between the mountains and the Atlantic Ocean.
First resort in the country to eliminate the use of all single-use plastics.
Suitable to couples, families, groups of friends and solo travellers looking for a beach holiday, an activity holiday or a yoga and pampering retreat.
The ingredients are fresh, seasonally and come from organic farming.
The luxury eco spa provides body treatments using organic care products.
Full Review
'Post Covid, in addition to a bad lifestyle, I really needed a break. This time, I was looking for an alternative to a gluttonous, inactive holiday – something that would trigger me to be healthier ...'   continue reading >
Key Info
---
Read more
Services
24-hour front desk
Airport transfer (Additional charge)
Beach bar
Beach sun loungers
Beachfront
Bicycle rental
Concierge desk
Cooking lessons
Dining area
Facilities for disabled guests
Filtered water
Fitness centre
Fitness/spa locker rooms
Free parking
Free wifi
Garden
Gym facilities
Holistic workshops
Lobby
Multilingual staff
Natural skin care
Outdoor pool
Pool with view
Property smoke-free
Property with sun terrace
Property with sun umbrellas
Restaurant
Single Use plastic free
Special diet menus (on request)
Tour assistance
Spa and therapy

Spa Detox Circuit therapy
The BioAge Detox™ protocol consists of exercise and spa therapy together with the administration of natural dietary supplements. By creating a flushing, or "vasodilation" effect, we increase circulation to skin and other organs like the intestinal tract, and promote the detox process. By exercising, we enhance this movement of blood and release fat-soluble toxic residues accumulated in adipose tissue from induced "rebound lipolysis". The use of chelating agents will bind to toxic chemicals and facilitate excretion out of the body through the GI tract and sauna therapy. ​This is a powerful immediate detox protocol that can release the toxic load from fatty tissues and membranes in a safe manner. Alongside with an optimal nutrition diet and a personal eating schedule, the BioAge Detox™ program will also aid with weight loss without exposing you to potential health effects from strict conventional fasting detoxes and rapid weight loss diets.​
Day 1: Tradional Hammam and body scrub (50m)
The detox experience starts with a black soap scrub using the traditional Moroccan glove, followed by a ghassoul wrap, for a real relaxation of your body and mind (steam, black soap, scrub, ghassoul wrap).
Day 2-4: Sensory steam bath followed by Purifying massage (80m)
We start by preparing the skin with a 30-minute steam bath using the health benefits of aromatherapy and chromotherapy. The warmth of the hammam will be followed by a burst of energy, thanks to fluid, gliding movements that can go deep into the tissues to release tension and eliminate toxins accumulated in the muscles and tone the entire body.
Day 5: Sensory steam bath followed by Relaxing massage (80m)
On your last detox day, you will enjoy the warmth of the Hammam, aromatherapy, and chromotherapy for a proper parenthesis of well-being. This will be followed by a relaxing body massage, ideal for releasing tension and relaxing the body from head to toe. (orange blossom essential oils).
Activities

HIIT training 60m
The program includes HIIT sessions which are a fundamental part of the Niacin Detox therapy. HIIT is a training technique which involves intense bursts of high-intensity exercise followed by varied periods of low-intensity active rest, or complete rest. Combined with detox supplements, detox baths, personal nutrition, yoga and Pilates sessions, we will ensure you can reap all the benefits during your stay.
Yoga Sunset 75m (Extra cost)
A very singular approach to yoga compared to all the other more active yoga styles. Here the emphasis is on relaxing the body and the mind. An approach that is closer to meditation where we want to stress our connective tissue in our body to become more supple and work on releasing and opening our articulations. A perfect way to finish the day!
Skill level
All walks of life
Food
Paradis Plage environmental commitment is reflected everywhere, but especially in the kitchen. The resort provides local and organic produce to bring you only the best and freshest ingredients. All fruit and vegetables come from local farms in the Agadir region and the fish from the nearby fishing port.
Paradis Plage is happy to cater for individual diets upon request prior to your arrival:
Vegetarian
Lacto-ovo Vegetarian
Gluten Free
Vegan
Pescatarian
Seafood
Lactose Free
Low carb diet
Review scores and score breakdown
5.0 / 5.0
5.0
/ 5
Based on 5 reviews
Overall

5

Venue

4.5

Package

5

Activities

5

Cuisine

5

Location

5

Sleep Quality

5
Guest reviews
Mireille S.
2023-04-14

I had a great detox week in Morocco!

Rating: 5.0 / 5

I had a great detox week in Morocco. The yoga, the fitness and the wellness program as well as the organic personal menu concocted by the nutritionist corresponded perfectly to my expectations. I highly recommend this destination and the services offered in this package by Longevity Escapes!

Saima Iqbal
2023-02-19

Fantastic wellness experience

Rating: 5.0 / 5

We booked a wellness retreat via Longevity Escapes. Our program was organised to be executed at Paradis Plage, Agadir. She was fantastic throughout the entire process and liased with the entire booking process as well as with any troubleshooting that occurred. Her advise on everything was too good. Sandra's explanation of the detox program, the supplementary vitamins and very useful nutritional advice was indispensable. She prepared us before travelling with a consultation and a timetable of supplementary vitamins and a pre-detox nutritional guide. Any advice query was promptly dealt by her on WhatsApp messaging or even calling her from the resort. The resort did serve healthy meals, the breakfast was meagre and despite Sandra designing a weekly breakfast menu and detox juices, the resort did not deliver as per her wishes, however, the chefs tried to comply as best as they could. I left very lethargic and bloated and in a very bad eating routine and returned home feeling much more energetic, our tongue colour also improved, buy the overall feeling of well being was definitely enhanced. Despite, Paradis Plage not adhering to the wellness schedule booked in advanced by Longevity Escapes, we had an excellent week making the best out of the weather, the exercise HIIT sessions and the excellent massages. I will definitely be booking and recommending Longevity Escapes again with Sandra.

Fredy
2023-02-07

Longevity Escapes First Class Service

Rating: 5.0 / 5

From start to finish Sandra at Longevity Escapes provided a first class service. She listened to my requirements and knew exactly what would suit me and I was not disappointed. Every part of my stay was perfectly suited to me. She recommended a beautiful retreat for me then tailor made a package. Was professional and responsive throughout the booking experience.

TripAdvisor 2020
2021-07-18

PARADISE INDEED!

Rating: 5.0 / 5

This hotel was absolutely perfect. We booked for a fitness and yoga break and loved every minute of it. The yoga studio is perfectly located facing out to the ocean, making the sunrise and sunset yoga sessions wonderful. Karsten and his colleague who lead the yoga were superb - it was always different, interesting and challenging. Abdullah running the fitness sessions was brilliant, making them tough but enjoyable. The reception staff were superb and very responsive to any requests. The spa is an absolute haven - spotlessly clean with a good range of treatments delivered by excellent therapists. The 2 restaurants for dinner offered great variety and again the staff were so helpful and welcoming. The 2 lunch venues were also great, particularly the beach cafe with vegan buddha bowls. We had an amazing week and will definitely return!

TripAdvisor 2020
2020-10-30

FUN FOR ALL

Rating: 5.0 / 5

I recently spent a week at the Paradis Plage Surf Yoga & Spa Resort. They offer all the commodities they say, both yoga and spa very good. The beach was superb and very well kept offering surfing, body boarding, rowing, various sea sport and with instruction if necessary. Camel and horse riding, volley ball, all sorts with plenty of room. Soft sand. On land the sun beds with towels, the open fire for the evening, so well organised. The Hotel is clean and comfortable and the staff are very attentive and friendly. My special thanks go to the reception staff who helped us enormously when our flights were cancelled. Thank you all for a great week.
