x
Thank you for submitting an inquiry. We will get back to you within 24 hours. The Longevity Escapes Team
Secure online booking
To make a reservation proceed below by selecting your check in date from the calendar. Please note you must request availability prior to booking.
Prices are based per room, per season and applicable discount:
- Low season: May to October
- High season: November to April
Current promotion
20% Discount when you book before 30/06/2022 valid for the travel period: 01/05/2022 - 31/10/2022
10% Discount when you book before 30/04/2022 valid for the travel period: 01/11/2021 - 30/04/2022
Welcome drink (Rosella Flower Juice) and cold towels upon arrival
Free room upgrade to the next room category subject to availability (min 14-night stays)
Free pre-holiday immunity booster plan with your assigned Nutritionist Travel Expert
8 Day 'Pure Yoga' holiday in Phuket and immunity booster program
Mangosteen Ayurveda Spa Resort, Phuket, Thailand
Inclusions
7 Nights in superior jacuzzi villa with garden views in child-free resort
7 Day breakfast buffet with veggie drinks as per nutrition recommendations
7 Day wholesome lunch and fresh dinner with vegan, vegetarian and Thai menus available
2 Daily Yoga Sessions 60m
1 Welcome drink (Rosella Flower Juice) and cold towels upon arrival
1 Welcome massage 25m per person per stay
Sample day
Day 1
Check-in
Introduction to the resort and program
Wheatgrass shot
Welcome massage 25m
Afternoon yoga or meditation
Healthy, light dinner
Day 2 - 6
08:00 - 09:00   Morning yoga session (Optional)
08:00 - 10:00   Healthy breakfast with veggie juice
12:00 - 15:00   Wholesome lunch
16:00 - 17:00   Afternoon yoga session (Optional)
19: 00 - 21:00   Healthy, light dinner
Day 7 - 8
Morning yoga session (Optional)
Healthy breakfast buffet
Check-out
Complimentary
24-Hours use of salt water treated swimming pool with views
Access to Himalayan rock salt infrared sauna
Drinking water provided in the villa, refillable copper bottles
Shuttle service to the beach and to local markets during free time
Free Ayurveda consultation
Not included
Flights and airport transfers. Transfers can be booked additionally at 38€ per person.
Available at an extra cost
Excursions and sightseeing tours (can be booked at the hotel)
Extra yoga classes apart from the daily morning and afternoon yoga session (2 daily sessions included, more available on request, 500 Baht per person, per hour)
Recommended for
Beginners and intermediate yoga lovers looking for a gentle, spiritual, and therapeutic yogic experience.
Individuals willing to improve their lifestyle, boost their immune system and nutrition habits.
Mangosteen Ayurveda Resort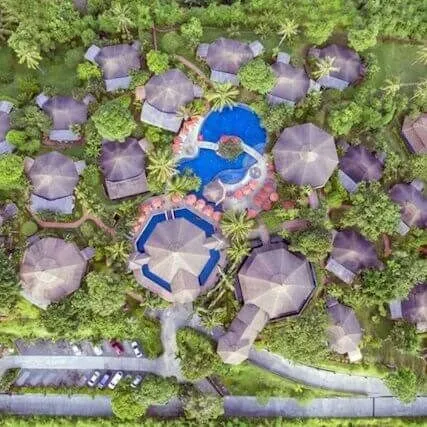 Phuket, Thailand
Mangosteen Resort offers all-inclusive Ayurveda healing programs and permanent wellness yoga retreat packages with optional vegan, vegetarian and Thai cuisine ideal for couples, friends, families and non-participating companions.
What we love about this venue
Authentic Ayurveda treatments and cuisine
Infrared sauna with Himalayan salt rocks
Salt water pool with panoramic views of the island
Free shuttle to Nai Harn Beach 2 times daily with free pick up (20 min trip)
Great location on a hilltop 200 meters away from the main road
Key Info
---
Read more
Facilities
24-hour front desk
Airport transfer (Additional charge)
Beach bar
Concierge desk
Cooking lessons
Dining area
Free wifi
Garden
Gym facilities
Holistic workshops
Lobby
Medical assistance
Multilingual staff
Natural skin care
Outdoor pool
Pool with view
Property with sun terrace
Property with sun umbrellas
Restaurant
Special diet menus (on request)
Tour assistance
Activities
Morning and afternoon meditation breath-works at Prana Yoga Sala
Yoga styles: Kundalini, Hatha and Hatha Flow, Vinyasa, Yoga Therapy, Yoga Stretch, Dynamic Hatha, Yin Yoga, Restorative Yoga according to schedule
Skill level
All walks of life
Food
The program includes a full board based on vegan cuisine. Please not that non-vegan options are available free of charge.  The restaurant features an authentic Thai menu, a Mediterranean menu and a special a la carte Ayurveda menu catering to all needs.
Holiday review scores and score breakdown
9
/ 10
Based on 1 reviews
Overall

9

Venue

9

Package

9

Activities

9

Cuisine

9

Location

8

Sleep Quality

9
Guest reviews
TripAdvisor 2020
2020-11-01

TRULY RELAXING AMAZING FOOD

We planned to stay here for three nights and extended to six, and we would have stayed longer (if not for COVID 19) The resort is an excellent mix of yoga retreat and relaxing hotel, you are able to choose how much of a retreat you go on as an individual, your party doesn't all need to be the same which we thought worked really well. We were part of the wellness package with yoga twice a day and our food included. The yoga instructors were very good and catered for all levels, Kong was brilliant and we looked forward to her classes the most. The food was exceptional and their soups excellent. A full vegan buffet was lunch and dinner with the option of a meat/vegetarian menu which was always delicious, breakfast was one of the best I have ever had, ever. The pool area was lovely with an exceptional view enjoyed from the comfy floating bean bags, the only thing that occasionally let it down as the guy who worked there selling some kind of time shares to Australians or anyone else who would listen, his voice cut through the calm. Rose and her husband as well as all their staff were lovely and I would definitely return to enjoy a relaxing break again and recommend to anyone
